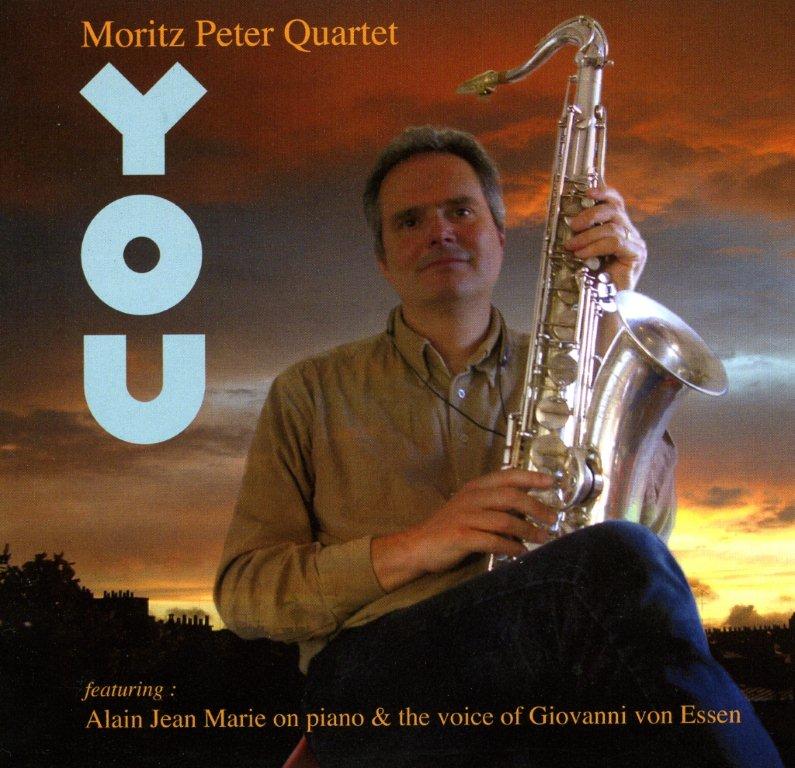 released in oct 2009 by TCB records
Musicians:
Moritz Peter sax/cl
Giovanni von Essen vocal bs
Alain Jean Marie p
William Chabbey git
Emmanuel Chabbey bs
Mourad Benhammou dr

Recording Studio: Birlmusic Paris
Engineer:Jean Paul Moreau
Mix and Mastering: André Bonnin
Cover Photo: Sonja Bärlocher
1. You (M.Peter)
Some might think to begin a CD with a ballad might be unusual. But of all the songs I have written,
YOU is probably my favorite. The song introduces the voice of Giovanni who is followed by a saxophone and a piano chorus.
2. Up And Down (M.Peter)
The second composition,got its title for it's up and down going melody. The straight forward swing tune is played in unison by clarinet and guitar. I particularly like the brushwork of Mourad.
3. Rhumbolero (M.Peter)
Since I like the Caribbean very much, it was natural to bring in some tropical flavor. We played Rhumbolero for fun when the day's work was done. Alain had already left the studio. Fortunately, Jean Paul kept on the recording machines.
4. A Little Rhythm (M.Peter)
was another vehicle for Giovanni. It is a Bossa which we usually perform as a instrumental version called "Mon Ami Max". For this recording I wrote the lyrics fitting that happy melody I always thought to be nice in a vocal version.
5. Little Giant(M.Peter)
immediately evokes the great saxophonist Johnny Griffin. I wrote this ballad more then twenty years ago after I was listening to Sal Nistico - another true "Little Giant".
6. Pierrot (M.Peter)
starts with clarinet and guitar with a rubato feeling. Then it turns into samba and the rest of the band joins the duo. It features Emmanuel on the bass and then Alain on piano and myself on clarinet.
7. Benha Blues (W. Chabbey)
As on my former CDs, I'm glad to have William as a second composer. For this particular recording he wrote a Blues with a kind of groove, that really reflects his personality. He dedicated the tune to Mourad and therefore called it Benha Blues .
8. Yusef (M.Peter)
With Yusef we bring Giovanni back to the group. Here she uses the voice like an instrument, backed by the clarinet. There are no lyrics. For this modal composition we tried to find a more meditative spirit. I hope Yusef Lateef, who is one of my all times favorite musicians would like the song. .
If you like the music thanks for buying a CD.